Announcing the new Learn Data Insights (LDI) Website
I am proud to announce today that we are launching the new version of the Learn Data Insights (LDI) website – www.learndatainsights.com.
LDILearn Data Insights is an online learning platform for Data Analysts, Financial Analysts, Data Engineers and Data Scientists, with a focus on Microsoft technology. My business Partner Naveen Ganpat and I first launched the site in 2020, predominately with a set of quizzes for helping people prepare for the Power BI certification. Fast forward 18 months and the site has had over 10,000 people sign up who have collectively completed over 80,000 quiz attempts.
The new site has a revamped design, new quizzes (including for Power Platform and Azure) and some initial course modules for topics such as Power BI Governance and Financial Reporting with Power BI. The content is organised around the specific personas/roles which we hope will help guide learners towards a path of learning.
LDI is very much a passion project for me. Apart from being a Power BI enthusiast, I am fascinated by the ed-tech industry – by the psychology of how people learn, and by the story of how businesses exist to understand and solve the problems that people are facing. Not coming from a particularly technical background, I've found my own learning journey with Power BI challenging at times and want to really help all those who are on their own path with data analytics and cloud technologies.
I've also been inspired by the Lean Startup (this video is an excellent overview of the themes covered in the book), and more recently the Customer Driven Playbook, which have given me a different perspective on business. I have come to realise that it is not enough to just build what you believe to be a great product and hope that people will use it. Rather, you have to define "leap of faith" assumptions around the problem statements of customers and how they will interact with your solution, and then continually define experiments (targeted iterations of a Minimum Viable Product – MVP) to test these assumptions. In this article I want to explore the problem statements that we are trying to solve with LDI and how they can help shape the future of how people learn data tools.
February 2022 marks two years since I was awarded the Most Valuable Professional (the other MVP acronym!) award from Microsoft. After learning so much from the community myself (including from preparing my own sessions – teaching really is the best way to learn!), it has been an honour over the last 2 years to have those contributions formally recognised by a company the size of Microsoft.
But as Power BI has grown in popularity in recent years, and as every user group and course switched online during the pandemic, the online community has exploded with content. Much of this content is produced by some of the best BI professionals in the world and I felt I needed to find a niche in terms of content and/or style.
I wanted to explore different formats of learning – not just blogs and videos – but rather content that is more engaging and interactive that would suit a range of different learning styles. I took inspiration from the type of e-learning in the corporate world (e.g the mandatory e-learning typically focused on security/compliance topics) and wanted to see if that format would work for data analytics. I was also encouraged by the initial reaction to LDI indicating that there was clear demand for this type of content, particularly amongst those trying to prepare for Microsoft exams who want practice questions.
So with this in mind, and with a lot of introspection, we made the following assumptions around the problems statements for our (potential) learners at LDI:
It is challenging to keep up with the pace of features/changes in many of the data analytics/cloud topics and to know what you don't know.
A lot of the learning content available focuses on tools and tech rather than "jobs to be done" and is presented in formats which do not work best for all learning styles.
People in the industry are very busy/time poor so need access to short bite-sized "micro-learning" content with a more flexible pricing model than the subscription models offered by traditional learning platforms
Considering the problem statements in turn and how we are addressing them with the new LDI platform:
Problem statement 1 – Breadth of data analytics/cloud topics
Because all of the technologies we cover (including Excel!) continuously change and are very broad in nature, we believe learners struggle to identify and fill knowledge gaps. This is particularly relevant when looking to take a Microsoft exam which covers a very broad syllabus, and when trying to benchmark yourself against others and stand out from the crowd, many of whom have obtained the same certifications.
We are addressing this need through providing quizzes that test your knowledge of the various topics in each platform. At least initially, each quiz is designed to be not so much a test in the traditional sense, but rather a learning/knowledge check interaction – whether you get the question right or wrong, you are presented with links to material to learn more about the specific topic.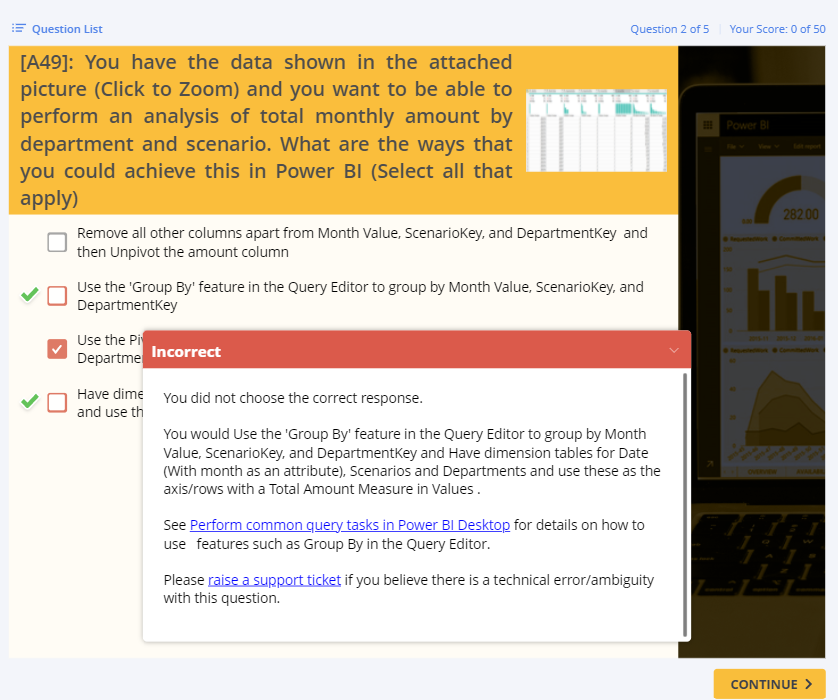 You are also emailed a copy of your detailed quiz results (at a question level) after each attempt so that you can refer back to it.
We try to practice what we preach and so also solve challenges like this with data.  All the quiz attempts are processed using a comprehensive Azure data platform and presented using Power BI embedded reports back on the site. The Quiz Analytics report is designed to allow you to explore leaderboards for particular time periods, topics or user characteristics and benchmark your results against those from the same location or with the same level of skills and experience.
We provide a basic certificate as a separate Power BI embedded report (for the Power BI quiz attempts) but based on feedback will look to extend this with digital credentials. As the LDI quiz questions are generally more challenging than the real exam, and scores broken down by specific areas, there is the potential to use these as a recognition of skills/knowledge in a particular topic that will supplement the official Microsoft certification in a way that is more granular and up to date.
Problem statement 2: The need for more interactive e-learning focused on jobs to be done
Taking Power BI as an example, the range of video sessions/courses and blogs/articles available in the community (including the Official MS learn content much of which is catered specifically for exam syllabuses) is without question excellent. It's how I've learnt a lot of the foundational Power BI knowledge I know today, and the authors of this content (including many of the other MVPs) deserve all the credit and praise in the world. But a lot of this content is focused on the latest features of tools – appealing to those who get excited by this – often with less of a focus on how to use these tools to solve the specific business processes and problems users have. That's obviously not easy given the range of scenarios that a generic tool/platform can be used for, but I believe that where possible, learning content needs to be applied to a specific domain/ role and focused on how a persona in that role can use (or in Clayton Christian's jobs framework "hire") the tool/platform to achieve specific business outcomes.
As an accountant by background, I have focused a lot of my community content recently on applying Power BI/Power Platform to finance processes and financial reporting through the Power Platform Finance community. During 2021, I ran a series of fortnightly training sessions with a group of finance and Power BI enthusiasts. We explored a range of advanced topics in Power BI and how it can be applied to financial reporting and analysis. The material I produced for these sessions is what I'm planning on bringing into LDI as part of the "Financial Reporting with Power BI course" presented as a series of short micro-learnings modules:
The idea is for each of these modules to be based around a pattern/a specific task that may need to be done in a financial reporting or analysis role. For now there is only an introduction module as I'm keen to get feedback on the format and content which I can incorporate when building future modules.
There is also a separate course on Power BI Governance which is presented using a more traditional e-learning format (slides with voiceover, knowledge checks and a more structured journey):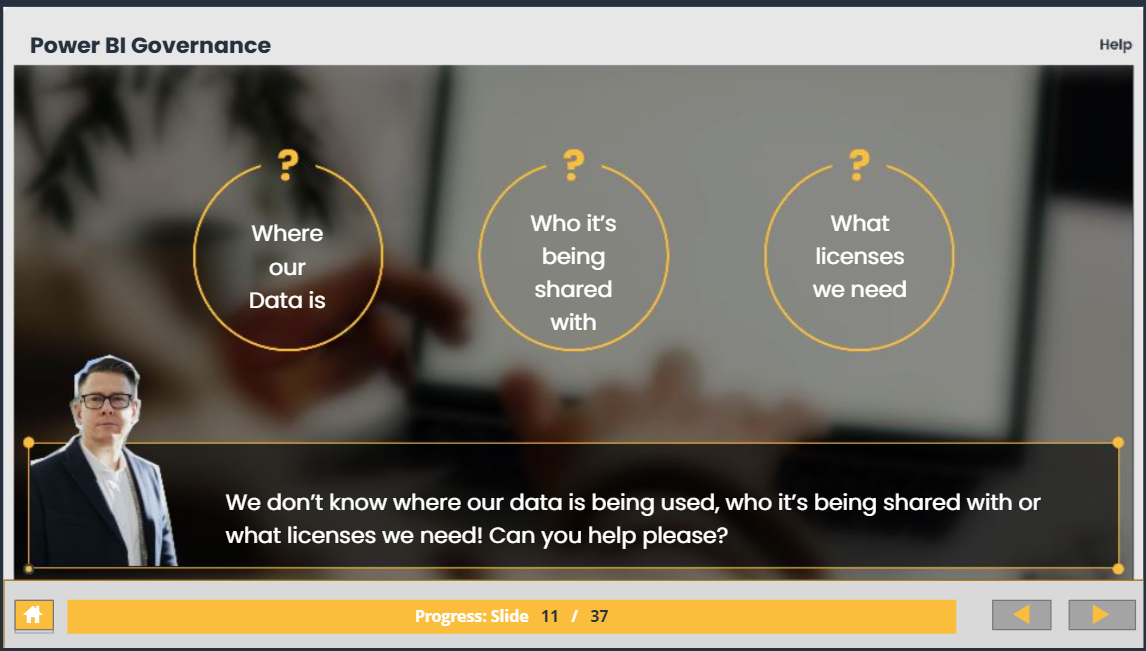 Again, only the first module has been developed so far but there will be more to come as long as this proves popular!
For Python, we have developed courses with hands on interactive coding windows (presented as embedded trinkets) where users can try out the concepts straight away from within the course rather than having to launch a separate app/environment.
We believe these kind of hands-on interactions make the learning more engaging and practical, leading to better knowledge retention and making it easier to apply new found skills in the workplace.
Problem statement 3: the need for bite size content and a more flexible pricing model
I'm a big fan of the concept of micro-learning – digesting smaller chunks of information which is regularly reinforced with knowledge checks/summaries along the way makes it easier to remember the concepts. The quizzes are a good example of this – doing a short quiz or two each day and reviewing the links in the feedback is potentially a more effective way of learning than spending hours on a course module and then realising you've forgotten a lot of it when you revisit the topic again a few weeks later.
This micro learning approach is also easier to fit around a busy schedule. Not every week or month will be the same either – there will likely be some periods when you can fit in several quizzes/courses and others when you don't get a chance at all. So the traditional learning platform subscription model of a fixed fee to access all the content (often too much to consume anyway!) over a period of time doesn't work for everyone. At LDI, we've adopted a tokens-based "pay-as-you-go" model where you receive a number of tokens for free when you first sign up, and every month on the anniversary of your join date. These free tokens will be enough for casual users or for those periods when you only have time for a limited amount of learning. For other users/periods, when you want to consume more content than the free allowance, you have the option of purchasing additional tokens at an extremely affordable rate. You can spend those tokens on whatever content you want at the time so LDI can support you as you develop through the role paths.
Looking to the future
We've got lots of ideas about how else we can solve these and (hopefully!) other similar problem statements as we discover them.  What we've built now is not just a learning platform, but a full-fledged custom Learning Management System (LMS) backed by Azure. This foundation will allow us to scale to new heights and develop innovative solutions for our audience. We want the platform to be community-driven so we will certainly be introducing more community-based elements in the near future. In the meantime we want to hear from you! If you have used the new website, please fill in the feedback form here or raise a support ticket on the site if you have experienced any specific issues.
The team
With any large project it is important to have multiple people with different skills and perspectives involved. Our website developer Vivek Rabara, based in India, has been instrumental in helping us achieve our vision so far and we are incredibly grateful for his hard work. We have also hired interns throughout the two year period, including Victor Gulart, Ashwin Gunasekaran and Rohit Saini. We've tried to provide these young people with an opportunity to learn these data analytics skills themselves along with the presentation/design skills needed to communicate technical concepts in a way that is easy to understand. Finally, advice from friends and mentors such as Mike Carlo and Ryan Bykowski has helped clarify our direction on a commercial and technical level!
Looking forward to going on this journey with you all, onwards and upwards!
Want to provide feedback on this blog post or enquire about having training for your company/team? Fill in the form below and let us know!